Our very well detailed Tractor Bed always remains a firm favourite for our customers and has been a top seller for many years. Featuring nice thick chunky wheels and acrylic mirror headlights and wheel detailing this is hard to beat and may be imitated cheaply by other less reputable companies. We come up with great detailed designs and others try to copy but fail miserably in our opinion.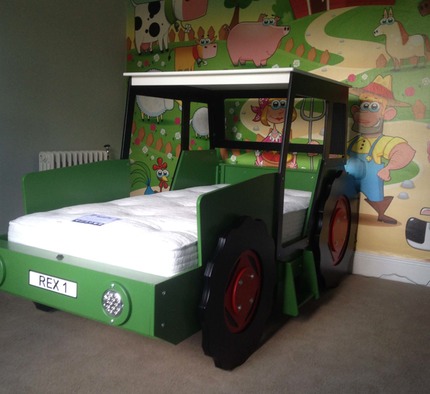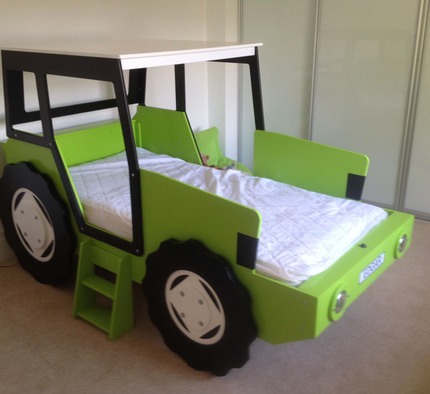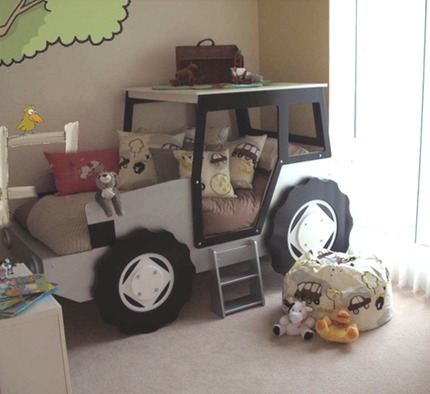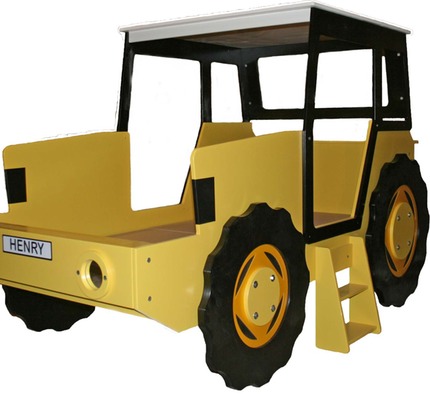 If you want the best childrens beds you have managed to find the right place. Why else would the likes of Mr and Mrs Beckham use us (4 beds so far) and Amanda Holden to name just 2 high level celebrity customers. We look forward to working with you to make your childrens bedrooms a special place to be.
 Comes with our standard acrylic mirror headlights or can now be upgraded to have working headlights if required. The headlights on the tractor bed use LED lights working on 12v DC so completely safe!.
 This is perfect for the little budding farmer in your family! As standard the cab of the tractor bed will be black with a light cream roof and yellow centres to the wheels. The smaller wheel hubs in the centre of the wheel will be painted to match the body colour chosen and a smaller range of colours are available for the wheel detail.
Unfortunately due to a legal agreement with a well known tractor company we can no longer provide you a tractor bed in green with yellow wheels. We can still offer a green tractor bed but it would come with another colour for the wheel centres. If you would like to purchase the tractor bed unpainted we can also do this so you can paint in your own choice of colour and also is a lot cheaper than getting the fully painted version.
We look forward to making one of our lovely childrens tractor beds for you.
Following is a list of the different options available
Standard version includes

Available as a standard single (2'6", 3', 1m euro or US Twin)

Acrylic mirror headlights
personalised number plates front
Available in a range of colours

Please note Dark green cannot be supplied with yellow wheels

Options Include
To order either use the order function to the side or go to the shop
Pricing
The standard pricing is as follows.
Ordering the fully Painted version costs £1,100 for the bed with a deposit of £550 (50%deposit). This is with our standard wait time of around 8 weeks.
If paid in full on order this is reduced by 10% to £990. (still around 8 weeks)
If you are happy for a longer wait than our standard wait of approx 8 weeks and extend up to about 16 weeks (may not be that long) the price will be reduced to £880 (20% discount). Deposit payment of £440.
Delivery costs and options are shown on the options and vary according to where you are if you require installation by distance from Kent. Standard delivery is with UPS and is a national price for all mainland UK. If you are in the highlands or islands please contact us prior to ordering to confirm delivery costs.
Unpainted version is available on approx 6 week lead time and is paid in advance. This costs £550 which will reduce to £440 (20% discount) if happy with a longer wait of up to 12 weeks. Delivery for this bed is set at £150 for all UK mianland but again, if in the highlands/islands please contact us prior to order.
Options
You can add working headlights to this bed for £160. This is a flat fee and not affected by the reductions in price described above.
Personalised number plates are included in both versions of the bed!
If you have any questions please contact us. Any overseas customers please contact us for pricing for your area and shipping costs.