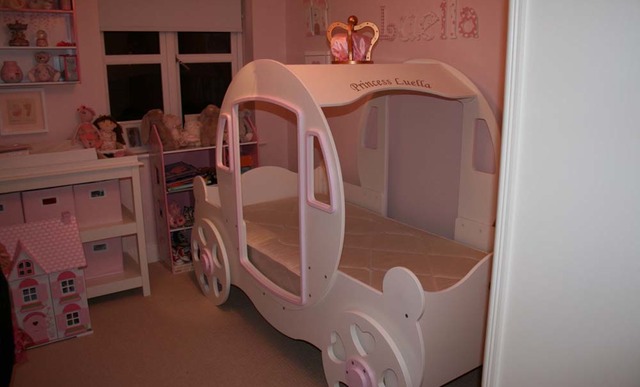 This is our newly updated design for the cinders princess coach childrens bed. We have simplified the design and have made the crown an optional extra. This is still made with the exacting standards required of Bluewell Theme Beds and we are also introducing a selection of detailing to go on the bed if required.
As this is our newest design we lack photos of it at present! We will upload more as and when available! As with all our lovely childrens beds this is bound to put a smile on your little princess's face. All children should have a bluewell bed, don't let yours miss out! ;)
If you require even more luxury upgrade to the royal coach princess coach bed which has hand painting, steps and bespoke colours.
This is available in a range of standard colours or can be made to a standard palette of colours where you can choose the colour of individual parts if required. Different coloured window/door surrounds also available as an option.
Standard Colour scheme

Mixed Pink (Dark pink lower body, light pink upper body, silver wheels and light pink wheel hubs)
Cream (Light cream body, gold wheels and light cream wheel hubs)
Cream and pink (light cream body and light pink upper body, cream wheels and light pink wheel hubs)
Lilac (All lilac body and wheels)
Pastel Blue (pastel blue body, silver wheels and pastel blue wheel hubs)

Standard colour Palette for the Cinders coach

Light cream
Light pink
Dark pink
Lilac
purple
Pastel blue
mid blue
Dark cream
Silver (Wheels only)
Gold (Wheels only)

Crown options

Standard materials

Silk effect in Red
Silk effect in purple
Silk effect in light pink
Silk effect in pastel blue

Jewels available in a range of colours
For more details on ordering please use our contact form