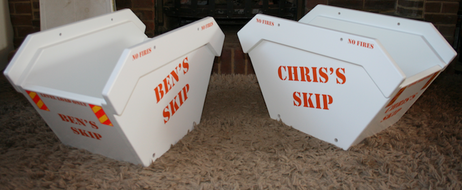 AS SEEN ON TV! These two skips are the ones featured in the BBC DIY SOS programme last year.
 We were more than happy to supply these skips to the show.
There are a lot of toy boxes in the shapes of skips out there but what you most probably don't know is that we came up with the idea 8 years ago and started it all!
This is the original design which has been tweaked recently to make it even easier to put together and improve aesthetics. This is a great and entertaining way of storing either small items in the mini skip up to larger toys in the generously proportioned maxi skip. If that is still insufficient we can always make you a larger size on request and looking at offering a jumbo skip at about 1 metre long.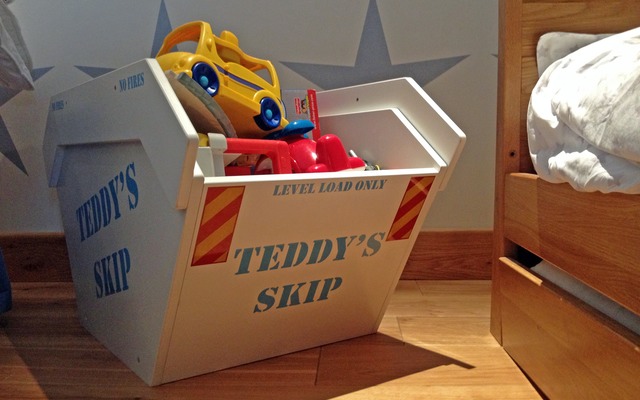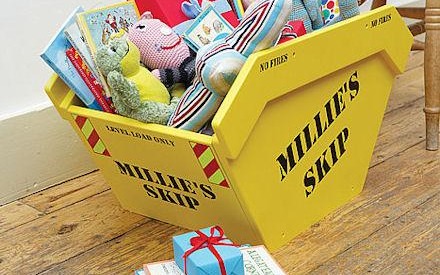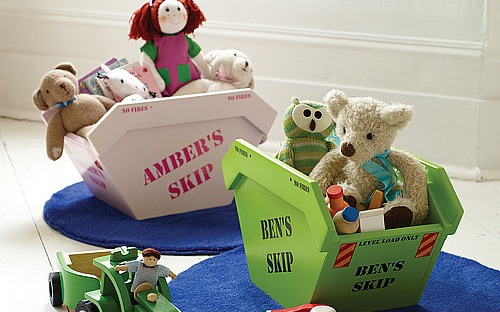 No other skip out there has, as standard, fully reflective stickers using the same high quality vinyl that is used on emergency vehicles for the hazard stickers. Of course we need to warn your little ones to keep a level load and not to have fires in the skip so they are also supplied as standard!
 Don't like yellow! no problem as we offer the skips in a wide range of colours and also a range of colours for the text for the personalised skip toy box and if you want something for your colour scheme and we can even colour match to a certain code if required. (This costs £30 as we have to order a minimum of 5 litres of the paint). If you require a bespoke colour please email us.
Toy Skip Toy Box Dimensions
Mini Length(Max) 480mm Width 270mm Height 260mm
Midi Length(Max) 640mm Width 360mm Height 360mm
Maxi Length(Max) 800mm Width 450mm Height 450mm
Standard version comes with all of the below.
Skip in your choice of size and available in Yellow with black text.

Fully reflective hazard stickers

No fires stickers to sides

Level load stickers to ends

"Toy Skip" on sides only
Personalised option comes with
All of the above except the "Toy Skip" stickers

Your child's name plus skip e.g. "Tommy's Skip"

Your own phrase e.g. "Tommy's Stuff" "Tommy's Junk" etc

Can be made as a promotional item from your company with your logo!

Colour of skip from a large range of colours

Colours available. Yellow, Red, White, Orange, Lime Green, Dark Blue, Mid Blue, Pastel Blue, Light pink, Dark Pink, Light Cream

Colour of text can be from a range of standard colours

Colours available Black, White, Red, Yellow, Silver, Gold, Dark Brown,Light Blue, Dark Blue, Dark Pink
To order the Personalised Toy Skip toy box please go to the shop page here.
To order the Standard Toy Skip toy box please go to the shop page here.
When ordering the Personalised Toy Skip toy box please make sure to fill in the name section with the correct spelling and grammar!
Please allow four to six weeks for Personalised Toy Skip toy boxess and up to four weeks for Standard Toy Skip toy boxes as all orders are made to order. If you have a date to meet let us know and we will try to help to get it done for that date.
If ordering multiple toy boxes the shipping will reduce.
SHIPPING Costs for Toy Skip toy boxes. Please note that shipping is for MAINLAND UK ONLY. If outside of this please contact us for more information on shipping costs.